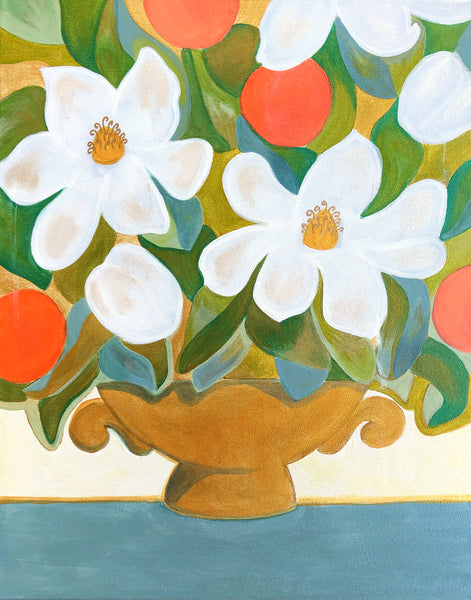 Camilla Magnolias Fine Art Print
The "Camilla Magnolias" Fine Art Print belongs to the Magnificent Magnolias Collection celebrating the beautiful state flower of Mississippi (and Louisiana!)
Reproduced from an original acrylic painting using bold pigmented acrylics and metallic paints, this 11" x 14" Fine Art Print is made using high quality, vibrant inks printed on a luxe silk coated paper that is thick and smooth to the touch. The colors pop off of the page and will make a beautiful statement on your walls or as a gift. 
The Southern Magnolia was officially declared the state flower of Mississippi in 1952. These gorgeous flowers symbolize nobility, longevity, endurance, and feminine beauty––and are a favorite flower not only of Mississippians but of people the world over who enjoy the captivating blooms of the ancient magnolia tree. 
Each print comes signed with my initials, is backed with mat board, sealed in a protective clear envelope, and then placed inside a sturdy flat cardboard mailing envelope for shipping. 
These prints are unframed and ready for you to choose a beautiful frame that matches your decor. 
FREE US SHIPPING is included. Prints will ship quickly within 1-3 business days of order placement.